In the first article we talked about the overall big picture when choosing the location of a house, such as which general area we should choose by looking at the zoning and plans of the government's city planning agency. In the second article we drilled down into the numbers to help us decide a more specific area to choose from as well as the financial aspects to consider. Today we will go deeper into what type of houses we should choose, and that requires a basic knowledge of understanding floor plans.
For your ease of reference, take a look at the 4 pictures below. Of importance is the very first picture denoting the walls. Take note that structural walls cannot be knocked down, but the rest of the wall types can be. It will come in useful in one of the later paragraphs. The pictures below are taken from another website where it has more detailed information on how to read floor plans.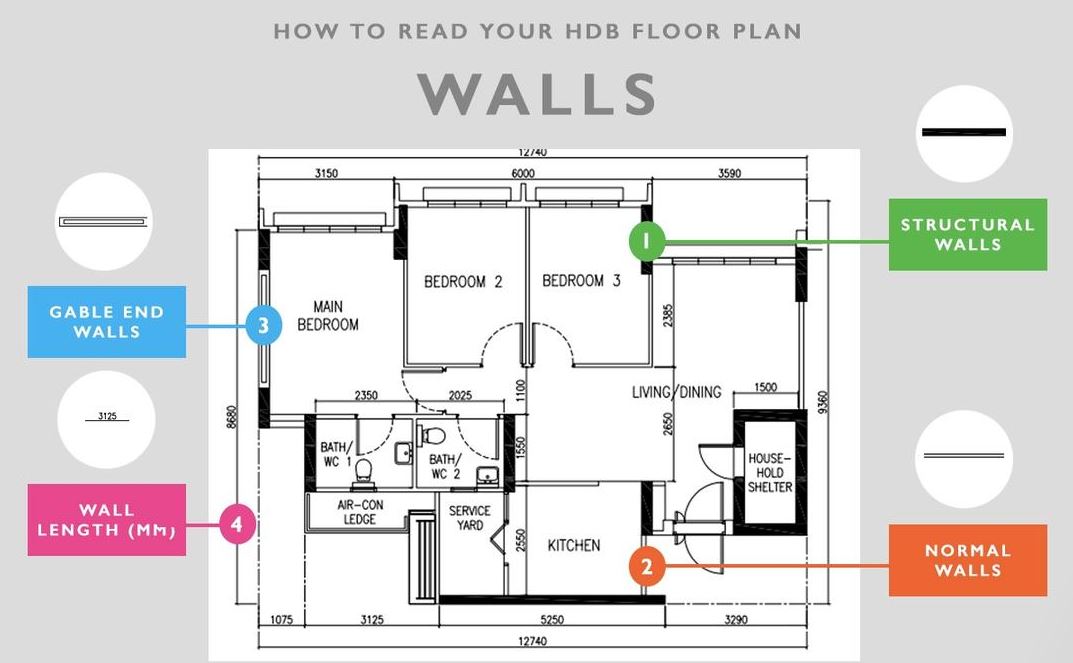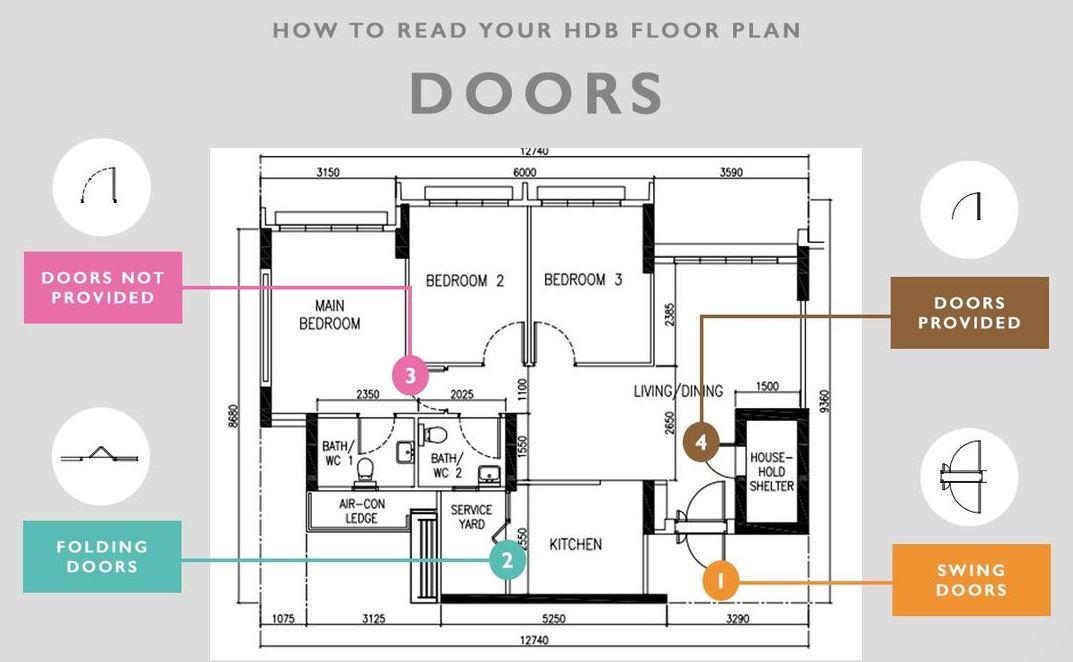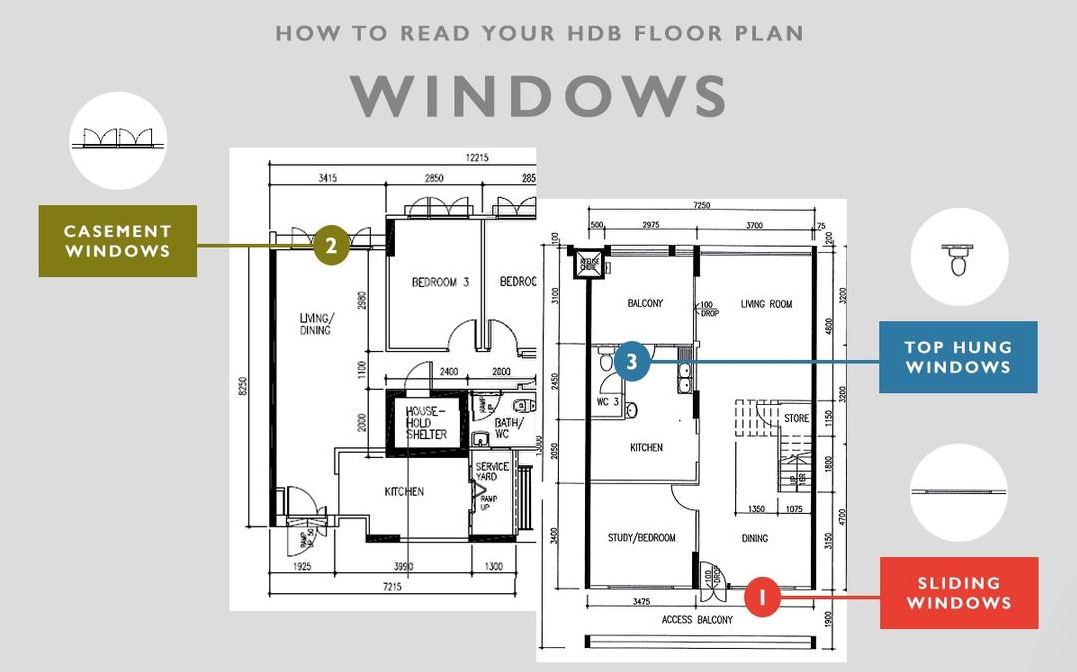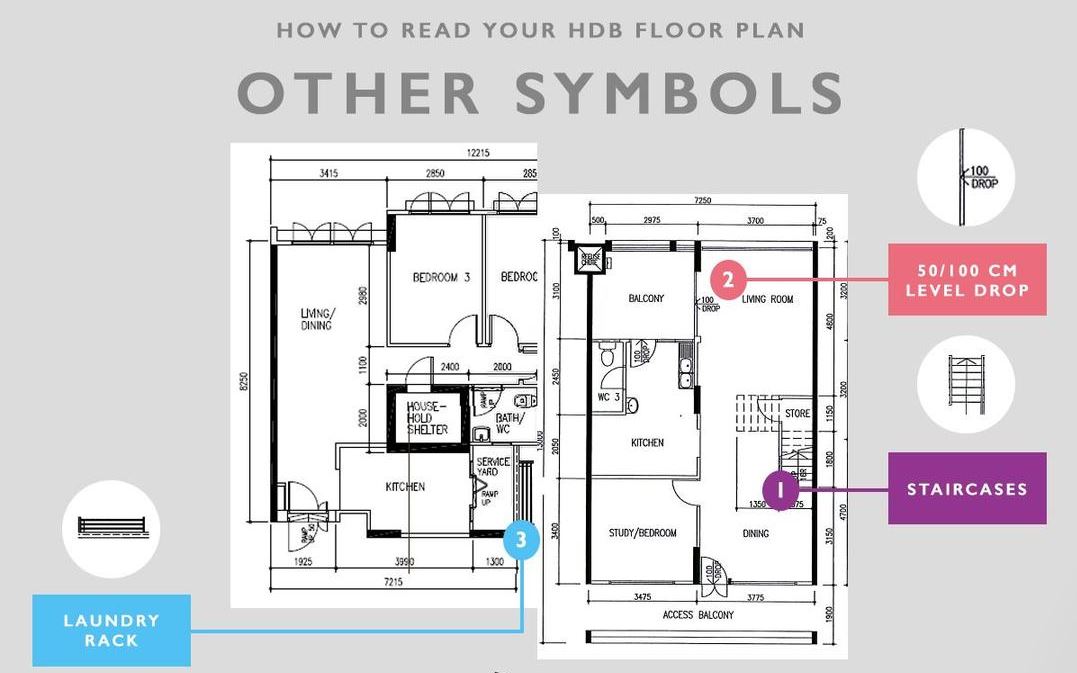 With that, we will now go into the different housing layouts and which one is the best for rental.
Jumbo Units
First off the list we have the 'jumbo' HDB (public) flats, perhaps uniquely in Singapore's context. Basically it is 2 houses 'merged' into one and sold as a single unit. The attractive point of such a house is that both halves are completely separated. The landlord stays in one-half while the tenant stays in the other half. Privacy of the landlord is not compromised, and its close proximity allows for the landlord to monitor and to react to any situation swiftly. Such layout allows you to either rent out rooms or as 'one unit'. Both sides also have their own entrance to the outside.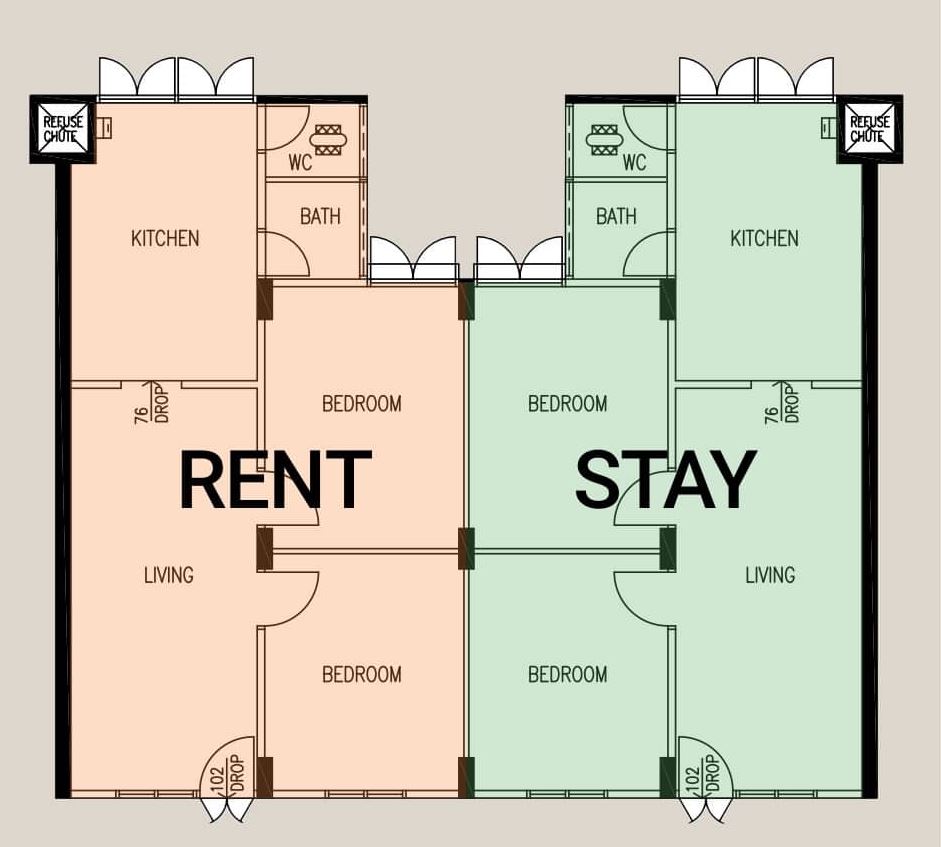 For those in Singapore, such houses are generally old as the government stopped releasing them after some time, which is quite a bit of turn-off considering that age will come with many problems such as leaking ceilings, peeling paint, disintegrating structures etc. Most importantly, if we are going to be playing rental, the property will be our cash cow. Take note that the leases of the flats are 99 years, and buying an old unit would mean that the shelf-life of your cash cow may not be as high as you would like it to be. For those in other countries who are able to build your own house without much restrictions or able to get hold of such units, do consider it. But judging from floor plans alone and ignoring all other factors, if one is able to get this type of house, it is the best and I would rank it the top of my priority list.
Dual-Key Units
Coming a close second and perhaps more practical is the dual-key condominium unit. Essentially it has one main entrance followed by a small common space which will split off into 2 standalone units. Similar to the jumbo units above, it offers '2 units' for the price of 1. Many condominium developers are providing this due to the huge demand and high popularity. Of course, the sizes of the 2 halves are also generally different. The issue with this is that the space to rent out the other half is smaller and hence that will affect your rental income. Do note that condominiums are generally more expensive and cost much higher per square metre, so your rental yield will drop significantly if you bought too big a unit to provide more space on each half, but unable to command a proportionately higher rental yield.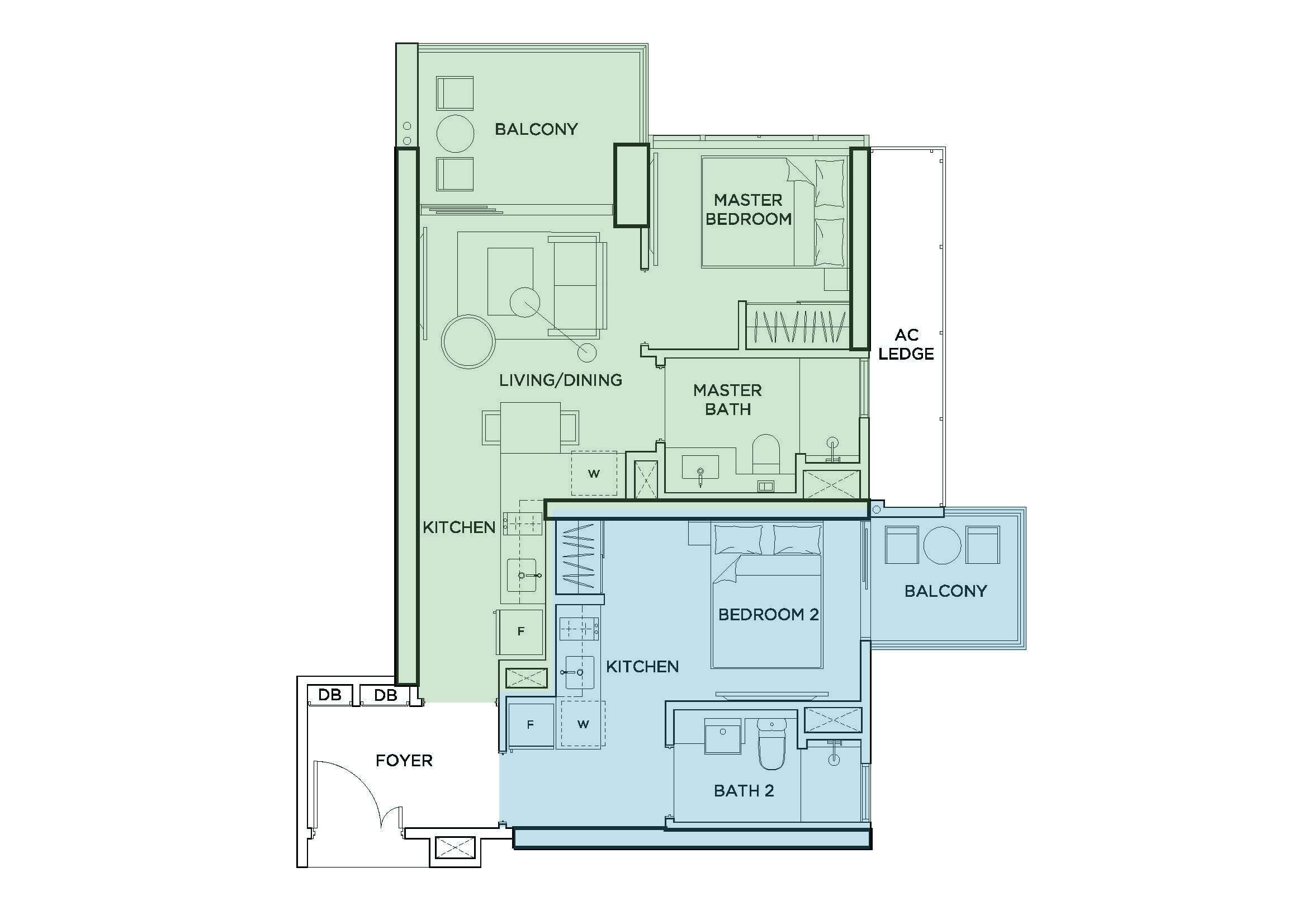 Shared Common Space
This is my recommendation to the average commoners, because not many of us have the money to buy a second house to rent it out, neither do we have the money to buy a big enough house to separate into '2-halves' nicely. The problem with the above 2 types of layouts is that it is not an efficient use of space. In the examples above, we have 2 kitchens, 2 balconies, 2 living rooms and in many cases 2 utility rooms. Basically a double of everything.
If we can only afford 1 house which we need to stay in, and at the same time rent it out, then we can consider doing away with all the unnecessary space for the tenants and opting for a shared common space for the necessary ones. In this option, we will be renting out rooms only. However, this is different from the usual room rental. We will still attempt to 'segregate' living spaces to a certain extent to create some semblance of privacy primarily for the landlord.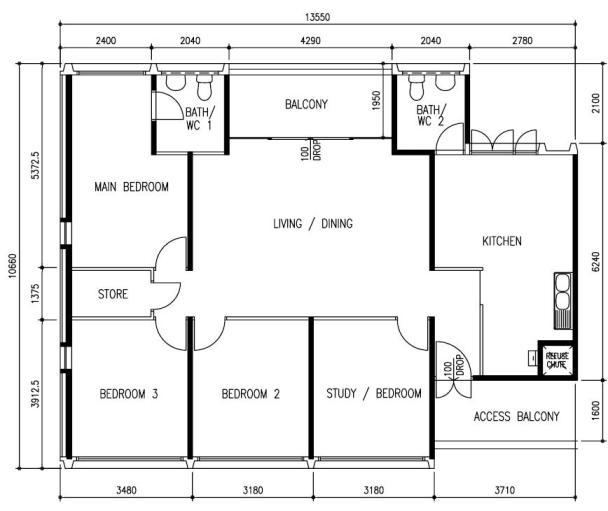 This is a very nice layout which is not that easy to find in Singapore's context. We can see that the master bedroom is on one side and right beside it is the living room. The other 3 rooms are on the other side of the house. With this layout we can make some minor renovations, which is as simple as building a wall across: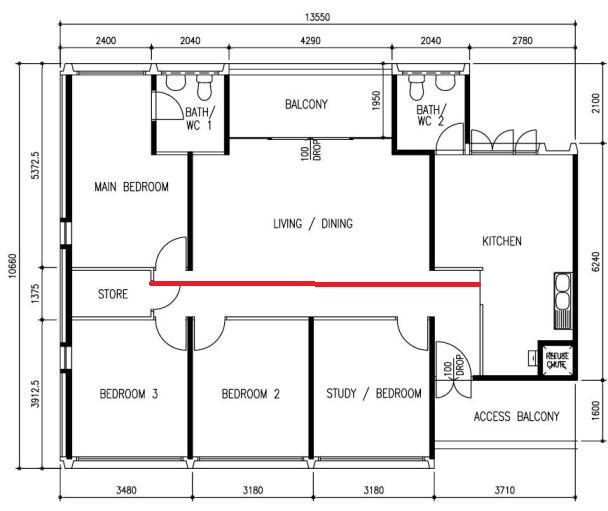 If I draw a red line across the house as above and build a wall along that line, I am effectively separating the house into '2', with the kitchen as the only common area. As the landlord, I can have the privacy and personal space of 1 master bedroom and the bigger living room. The master bedroom is especially important because it has its own toilet. The only other toilet (WC 2) is accessible via the kitchen and has to be shared among the rest of the tenants who will be living in the other 3 rooms. In this case, once the tenants enter the house, it is either the kitchen or one walkway to their own individual rooms, much like a hotel. From my experience, at least in Singapore, room tenants usually do not gather together in the common space for a common activity. In Western countries like New Zealand, occasionally we do gather together to have fun in the common areas though as people are more friendly and open to each other.
In this floor plan we see that almost all of the walls are structural walls, which cannot be torn down. Usually there are not so many structural walls and we can tear down walls at certain areas to connect the different sections. Of course the lesser walls we take down and build, the easier it is for us to restore to its original state should we want to sell the house one day.
Let us look at another example.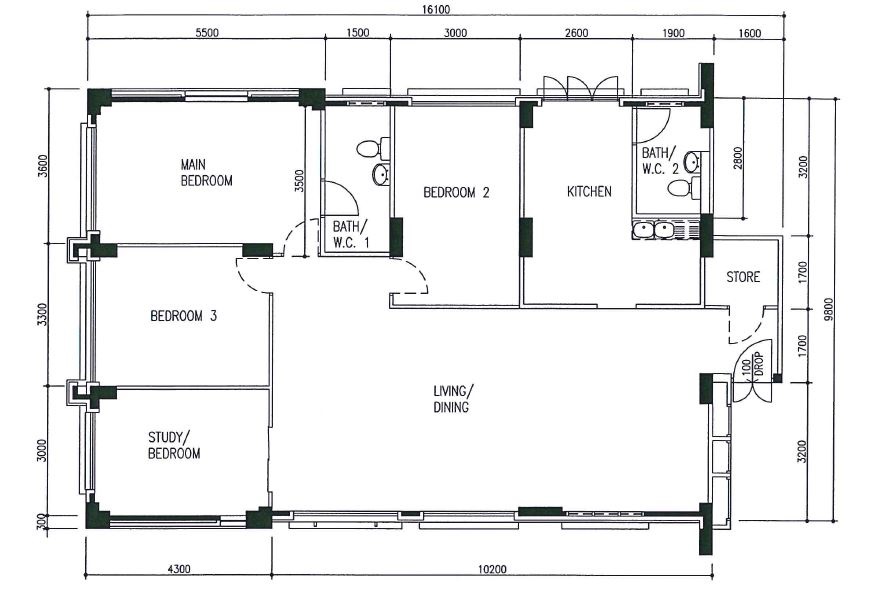 In this case we have fewer structural walls and more normal walls which can be knocked down. In cases where we simply cannot get the ideal layout, we can now knock down the walls separating the main bedroom, bedroom 3 and the study room, creating a sufficient space for us to use. We can then divide the living room into 3 rooms.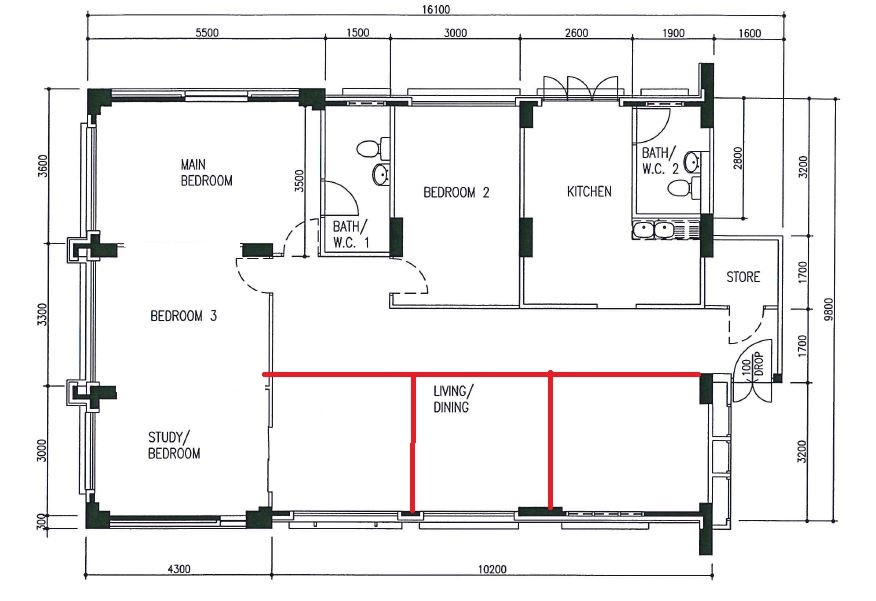 Now after renovation we have a big enough space for the landlord consisting of one master bedroom and 2 additional rooms, while the living room is divided into 3 smaller rooms. One critical point to note is that the rooms drawn out from the living room has a set of window each, which is essential. Adding on to bedroom 2, we now have 4 rooms to rent out to people. Same as the above example, the only shared space is the kitchen. The landlord has his own free private space to do whatever he wants to without worry about the tenants interfering with either his belongings, his privacy, his freedom in the house etc. The rooms segregated out from the living room may be small, but we can make do by renting it out to 1 person per room at a cheaper price.
Limitations and Conclusion
For those of you who have read till this part, many of you would have realised that the methods above may not fit you. There is one major and critical limitation to the above suggestions: That you cannot have a big family. You are either single and live by yourself, or you are married without children, or only have 1 small child. The space segregated out for the landlord is just not big enough for one family. Yet at the same time, you may not be rich enough to get a second house to rent out (since in this article series we are assuming the financial capabilities of a commoner). If you fit the above criteria, then yes the series may be relevant for you.
If you are neither rich enough for a second house nor has a small enough family size, then perhaps the rental game is not for you. You will then have to play the property appreciation game, which is a totally different topic and which I will talk about in the next article. From then on I will slowly expand out towards the macro view and begin to talk about current affairs and politics once again, as I have not touched this for some time due to my lack of time these days in keeping myself updated, digesting everything and forming my own conclusions.
Life is still busy, but I will still do what I can to keep this blog alive with quality content.